Virginia birdwatching at its best. Excitement is in the air when you join Assateague Explorer's Bird Watching Tour in Virginia. Birdwatching along Assateague Island National Seashore, spring, summer and fall. We see bald eagles most every day. Migrating birds along Assateague Island National Seashore exist in areas of the refuge visitors can encounter by boat. The bird watching cruise is your way to reach areas where shore birds and other birds thrive along the Chincoteague National Wildlife Refuge at Assateague.
Surround yourself with a mixture of species in this sanctuary. The extensive mudflats here are the perfect place to see oystercatchers, plovers, godwits, dunlins, etc. while birding along Assateague. A thrilling experience, the most efficient way to see shore birds and other species of birds here. Our Chincoteague Island native captain knows where to take you birding in this part of Virginia. Birds & horses you will encounter are in secluded parts of the U.S. Fish & Wildlife Refuge. We have binoculars and a bird book for you to use while on the tour but feel free to bring yours also.
We take you to parts of Chincoteague NWR that provide an awe-inspiring experience. This area is exceptionally important for migrating birds. We see different species of migratory shore birds every day on our tours (April thru October). You will go to areas where we encounter bald eagles on a daily basis.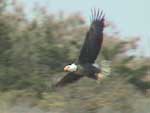 The birding trip travels the protected inner coastal waters along Assateague Island and Chincoteague in Virginia. You'll experience the best scenery that Assateague and Chincoteague Island offer. Magnificent coves, creeks and salt marshes await you. We search for osprey, black skimmers, oyster catchers, peregrine falcons, terns, pelicans, godwits, curlews, herons, kingfishers and more. The birding tours take you to see the most beautiful and wildlife abundant areas of the refuge. You will treasure the wildlife and scenic wetlands you discover near the Assateague Lighthouse and many seldom visited pristine areas here. Migrating species stop here all Summer.