Assateague & Chincoteague Island Waterfowl Hunting in Virginia
"Assateague Island National Seashore is a vital link in the life cycle for migrating waterfowl in the Atlantic Flyway."
Virginia waterfowl hunting located in a great part of Virginia, near the legendary waterfowl areas of Assateague Island National Seashore, Chincoteague National Wildlife Refuge at the vast surrounding wetlands & waterways. Come hunt the ducks and geese that fly on and off the refuge areas. The hunt departs from Chincoteague Island, Virginia to hunt ducks and geese that migrate each year to Assateague & Chincoteague, located in the heart of the Atlantic flyway. This area is renowned for its abundant unspoiled wetlands. Hunting is available from about mid November to the end of January. Anytime when the season is open is good. Call to reserve now. ESPN recently picked the Chincoteague National Wildlife Refuge as #2 in the country. This area in Virginia has a low human population density & low hunting pressure with one of the most diverse waterfowl populations found. The hunt takes you to a vast expanse of coastal wetlands at Virginia's barrier island habitat where a large variety (over 20 species) of waterfowl migrate to each year.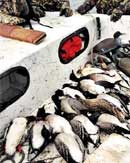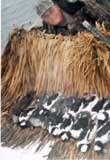 Assateague Island is one of the favorite destinations for waterfowl in the Atlantic Flyway and can produce some of the best wingshooting and waterfowl hunting that can be found. Large concentrations of ducks and geese are common throughout the season. Waterfowl hunting is legendary here because of the refuge, its location, abundant wetlands, open water and readily available food. Chincoteague Island and its nearby wetlands are known for their scenic unspoiled beauty. Besides ducks and geese, you will find amazing outdoor vistas. Your dog is welcome.
You will enjoy duck & goose blinds. Assateague and the vast coastal areas near Chincoteague where our blinds await, are in the heart of the Atlantic flyway for ducks and geese. We have a variety of fixed blinds, some with roof tops. You will hunt in scenic locations that provide an enjoyable waterfowl hunting experience. An abundance of waterfowl can be found here. We have the decoys and show you where the blinds are located for waterfowl hunting.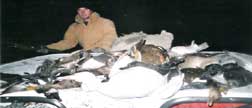 Virginia waterfowl hunting near Chincoteague Island is legendary. We are island natives and know the area. We try to put you under the ducks and geese so you can experience a waterfowl hunt of a lifetime. Waterfowl hunting is different each day and no two days are alike. Many ducks and geese are here each year, but we do not guarantee flight patterns each day. The abundant open waters and vast wetlands here in this part of Virginia create an awesome environment for large numbers of migratory waterfowl.
Situated strategically within the "Atlantic Flyway", our snow goose populations alone can range as high as 50,000. Nearly all types of North America's waterfowl species exist here and large concentrations of waterfowl are common throughout the season.
You can hunt during the day and return at anytime for a break to grab some lunch, use the restroom, go back to the hotel or ride through the nearby wildlife refuge. The wildlife, scenery, restaurants and nearby hotels provide a spectacular experience while waterfowl hunting here in Virginia.
Call and book your hunt now. We show you where the duck blinds are located and provide decoys. You are responsible to know Virginia hunting regulations. You also upon participation in this recreational opportunity accept and assume all the inherent risks that you may encounter pertaining to, but not limmited to injury, accidents or death. You also acknowledge that along with your associates, you agree to indemnify and hold harmless Assateague Explorer or any of it's associates or anyone acting on their behalf from any and all claims, demands, or causes of action, including any such claims which allege negligent acts or omissions. Have a safe hunt.